If you are unable to come in to do your research, please let us know!  We'll be happy to check all our files for what you seek.
Contact us by phone: 765-529-4028
Contact us by mail: 606 S. 14th Street, New Castle, IN 47362
Contact us by email: [email protected]
Include in your request the surname you would like information on and what you already know (so we don't duplicate your work) and your contact information.
Fees: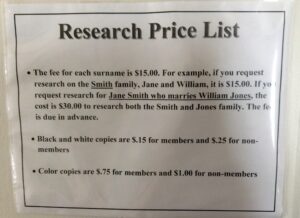 Thank you very much!