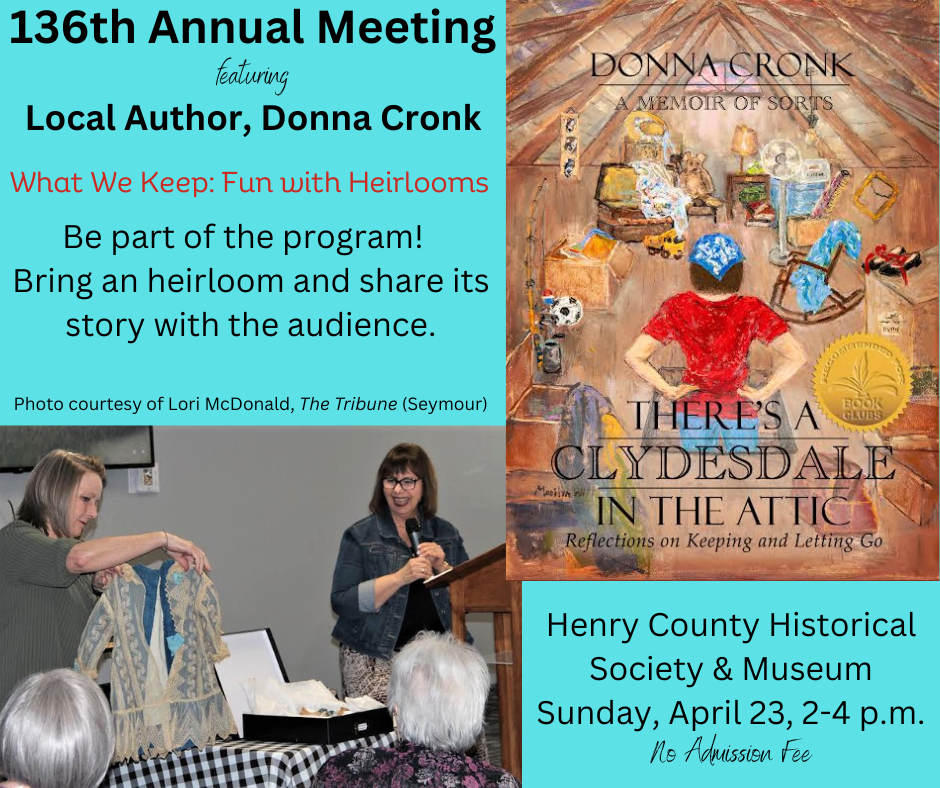 Author Donna Cronk will be guest speaker at the Henry County Historical Society's 136th annual meeting in April. Her presentation is titled: "What We Keep: Fun With Heirlooms."
Donna says the average American home is filled with belongings. Often, those belongings include objects inherited from parents and grandparents; memorabilia that our kids want to keep and items near and dear to our hearts. Yet there are other things we need to part with, but struggle getting it done.
Donna is right there with you. Sentimental about heirlooms, she also likes to keep things organized and decide what legacy items she hopes that her kids and grandkids might appreciate. Often, it's enough to keep the memories and lose the stuff. Her memoir, "There's a Clydesdale in the Attic: Reflections on Keeping and Letting Go," is about the memories, stories, and people behind the heirlooms. She has developed an audience participation program where she spends 20 minutes talking about practical ways to preserve legacy belongings, ideas for sharing keepsakes and tips for organization.
Those in the audience are asked to bring an heirloom or keepsake of any kind and tell its story. Cronk peppers her talk with examples of oddball belongings kept in her family and ideas on how to organize yours.
Donna is a Union County farmer's daughter and has lived at Pendleton for 33 years with husband, Brian. They have two grown sons. Donna is author of three books. She is retired after 31 years as Neighbors Editor at the New Castle Courier-Times. She still writes columns for three newspapers, including The Courier-Times.
After Donna's presentation, guests are invited to stay for light refreshments and to learn more about the 2023 Family History Writing Series. The Annual Business Meeting will conclude the day, including approval of the 2022 Annual Meeting minutes, as well as elections for the Society's President, Vice President, Secretary, and two Trustee positions will be held (to hold a position on the Board of Trustees you must be a member in good standing of the Society).
Contact the Henry County Historical Society at 765-529-4028 or [email protected] with any questions.