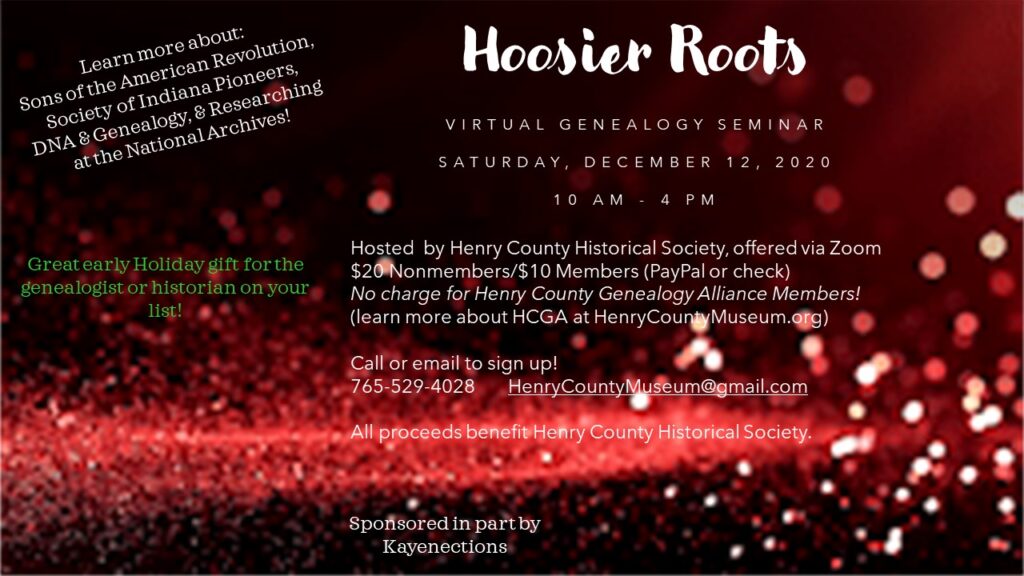 Saturday, December 12, 10 a.m. – 4 p.m. HOOSIER ROOTS
Join us for Hoosier Roots, a one-day genealogy seminar held virtually via Zoom! $10 for members, $20 for nonmembers, HCGA members have free admission! Go here to learn more about becoming an HCGA member. We have four well-known speakers lined up: Dr. Rob Pfaff will be speaking about the Indiana Society of the Sons of the American Revolution; Michele Julian Kerr from the Society of Indiana Pioneers; Steve Frank, JD, of the Central Indiana DNA Interest Group; and Brian Rhinehart will discuss what to do after finding your Civil War Veteran. A great day of learning is anticipated! Call us, email us, or message us on Facebook to make reservations and payment arrangements (Zoom link will be emailed to you that morning). Use the PayPal 'Donate' button to reserve your spot or send us a check. If you have questions for the pros, bring them for a live Q&A session.
Hope to "see" you there!